Ltd. (T-ALL INSPECTION) is a leading inspection technology service group in China's oil and gas industry, incorporated in 2002 in Bazhou, Xinjiang, with a registered capital of 195 million yuan, more than 800 employees, total assets of 590 million yuan, net assets of 400 million yuan, has developed into China's largest, comprehensive technical service capabilities and international competitiveness of the natural gas field independent It has developed into the largest independent third-party testing service group in the field of natural gas with comprehensive technical service capability and international competitiveness.
T-ALL has a strong technical research and development team, and the Testing Technology Center under the jurisdiction of the Institute of Non-Destructive Testing Technology, Institute of Pipeline Testing Technology, Institute of Double Carbon Technology, and Institute of Digital Innovation Technology. The total number of patents submitted and accepted is 132, including 66 invention patents, including the invention patent of oil casing gas seal inspection technology and many other technologies pioneering the industry, making outstanding contributions to the industry's safety production and energy saving and emission reduction, and promoting the development of the industry's inspection and testing technology. We have accumulated more than 50 domestic and foreign authority accreditation, including American Petroleum Institute (API) / Det Norske Veritas (DNV) / China National Accreditation Service for Conformity Assessment (CNAS) / China Metrology Accreditation (CMA) / Special Equipment Inspection and Testing Agency Approval Certificate (Class B) / Radiation Safety License / Equipment Supervision Unit Certificate / ISO System Certification / Software Certification / Domestic and Foreign Authorization certificate for thread processing of famous steel mills, etc. Intelligent inspection management system with fully independent intellectual property rights, to realize the digitalization of the whole process of inspection operations and the information management of the whole life cycle of inspection assets, to help customers achieve the goal of asset integrity management.
T-ALL provides integrated inspection technology services with asset integrity management as the core of the whole industry chain, including oil and gas exploration, development, production, storage and transportation, etc. T-ALL has strategically laid out a new disruptive business "Intelligent Inspection Technology Service" and "Double Carbon Technology Service". The business covers NDT technical services (NDT technical management consulting, drilling tool testing and repair services, oil drilling equipment testing, special equipment nondestructive testing, metal materials and their products nondestructive testing, power industry equipment nondestructive testing, oilfield equipment supervision services), oil casing testing technical services (integrated services, testing and repair services, testing and evaluation technology, mechanical finishing technology, corrosion and corrosion protection and evaluation technology), gas seal inspection technology services (gas seal inspection technology for natural gas wells, gas seal inspection technology for gas storage wells, gas seal inspection technology for CCUS wells, pipeline processing technology services), pipeline inspection technology services (pipeline inspection and evaluation technology services, pipeline intelligent monitoring technology services, operation and maintenance technology services, pipeline integrity and digital technology services), metrology inspection technology services ( integrated technical services, measurement apparatus testing and calibration services, security equipment testing technical services, lightning protection testing technical services), intelligent testing technical services (asset integrity management, equipment online monitoring, oil and gas scene monitoring, intelligent testing software development), dual carbon technical services (environmental protection consulting services, dual carbon certification consulting services, ecological and environmental monitoring services, carbon asset development and trading, ESG consulting technical We provide seven types of technical services (environmental protection consulting services, dual carbon certification consulting services, ecological environment monitoring services, carbon asset development and trading, ESG consulting technology services).
T-ALL's long-term service in the natural gas testing industry has helped the company accumulate rich professional service experience and stable customer resources, including CNPC, Sinopec, and national pipeline networks. The domestic business is centered on the natural gas market, with full coverage of the Chinese market and a complete domestic market network: natural gas/gas storage/CCS/national pipeline network/CNOOC/urban pipeline network/non-oil and gas industry. The international market is centered on Dubai, covering Central Asia, the Middle East, Africa, Southeast Asia and other key countries in the "Belt and Road" market.
The culture system of T-ALL is based on the common values of human society, following the values of the countries and regions where it is located and the principles that everyone agrees with. T-ALL will actively implement the corporate mission of "helping others succeed", always adhere to the core values of "integrity and integrity, enterprising, learning and innovation", and strive to achieve the corporate vision of "smarter, greener, safer and better". We will strive to achieve the corporate vision of "smarter, greener, safer and better". With advanced technology and equipment, modern management concept, excellent service consciousness and quality, we will create value for users, opportunities for employees, love for the community and contribute to social development.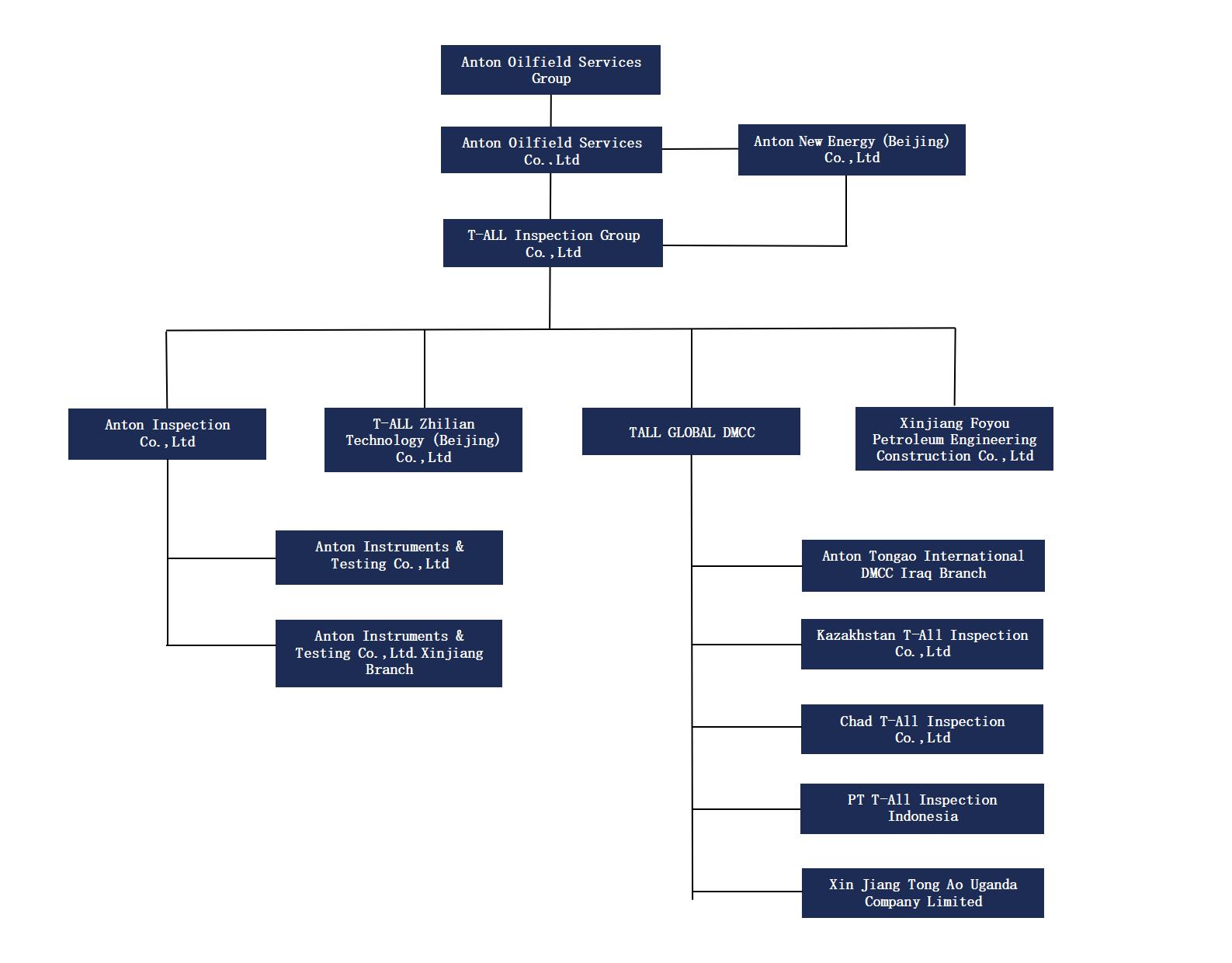 Corporate structure chart